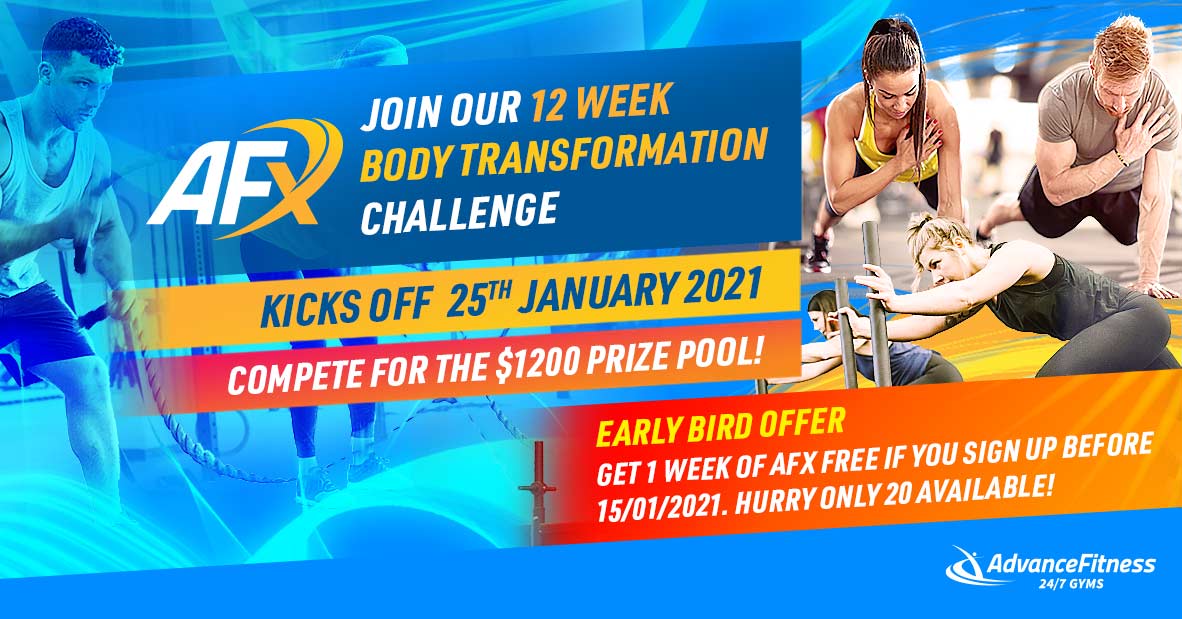 Doncaster East's next AFX 12 WEEK BODY TRANSFORMATION CHALLENGE kicks off on the 25th of January!
Here is your chance to achieve your ultimate fitness, strength and body transformation goals while competing for the $1200 prize pool!
AFX is the ultimate, results-driven, 45-minute functional fitness program brought to you by Advance Fitness! Based on HIIT, cardio and strength-based training principles, this motivation packed training program will help get you the results you want, fast!
EARLY BIRD OFFER! Get your first week of AFX FREE* if you sign up before 15th January 2021! Hurry, only 20 available!
Making functional fitness more affordable
+ AFX Membership includes full 24/7 gym access!
+ Unlimited access to AFX sessions & Super Saturdays
+ Body Transformation Challenges
+ Nutrition Tips & Food Diary
+ Access to our exclusive AFX Facebook group
+ Regular progress reviews to help you stay on track
+ AFX Membership with gym access from only $34.95 per week* Enquire for full details
Once you have registered we'll give you a call or catch up with you at the club to run through the details.
We are excited to share the success that our members have enjoyed while training at Advance Fitness. Check out these life changing stories …